For the 2014 Nuit Blanche festival in Paris, event partner Samsung Electronics France commissioned Mini Burble to create a visual interactive spectacle controlled by their tablets that lit up the night sky of Paris.
We were approached by TETRO to showcase Mini-Burble at the heart of this one-night event in 2014 for their client, Samsung. We built a customised software interface for Samsung tablets that members of the public could use to control and manipulate the surface of the Burble. We handled all site production and coordination and our team travelled to Paris to deploy the Burble.
We are very happy to have been able to present this beautiful project with you in such a short time!

— Matthieu Debay, Founder & CEO TETRO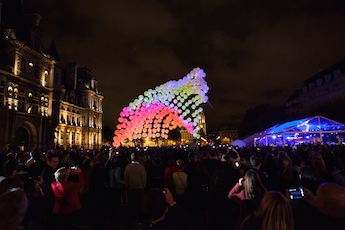 Each balloon in Mini Burble contains sensors, LEDs and microcontrollers, enabling the balloons to create patterns of colour rippling skyward. Once Mini Burble is launched, members of the public use a Mini Burble App to paint the colours that flow through the 30m form. The public are able to come close to Mini Burble while it is in flight, and in some cases it can be walked through crowds, depending on the complexity of the event and event space available.
The Mini Burble App enables the public to 'fingerpaint' and trigger animated colours, creating vivid patterns across its surface. Visitors can paint on their own, but if they coordinate and work together they are able to create more spectacular results.