The Burble is a massive tourable interactive floating structure that can be controlled and manipulated by thousands of members of the public, dramatically transforming urban skylines as they 'paint' colours across its surface.
One of Umbrellium's most popular offerings, the Burble comes in two sizes. Mini-Burble brings the night to colourful life in a large-scale media-friendly 10-storey spectacle that draws thousands of people and is visible from far away. Mega-Burble is even bigger! Participants collectively control Burble, generating colourful forms and patterns through a combination of the crowd's desires and the impact of the environment on the three-dimensional shape of the Burble. People's individual contributions become an integral part of a spectacular, ephemeral experience many times their size that they have come together to produce.
Burble was repurposed from Open Burble. First commissioned by Singapore Biennale 2006, Open Burble is an enormous mass-participation spectacle that enables participants to design and fly an 18-storey tall interactive structure that transforms the urban skyline. In Open Burble, members of the public come together to compose, assemble and control an immense rippling inflatable form that changes colour in response to the crowd interacting below. This massive structure, the form of which the public has themselves designed, exists at such a large scale that it is able to compete visually in an urban context with the skyscrapers that surround it.
Features
Night-time event and spectacle for thousands of people
Dramatic interactive Burble structure (usually for one night, or longer periods if necessary)
Custom interactive app and/or twitter integration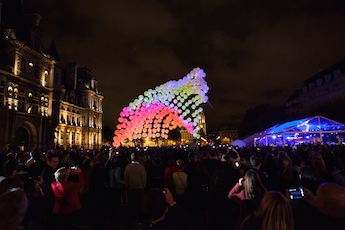 Expected Outcomes
As a result of the event, several thousands participants will:
Actively participate every night
Contribute to and feel ownership for the spectacle
Help turn public spaces into an engaging and inviting outdoor interactive environments
Collectively design and transform their own cityscape
Use Cases
Outdoor public events
Opening ceremonies
Activating large groups of people